Questions of Love: New & Selected Poems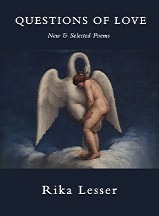 "Rika Lesser has been meditating on the twists and turns of love ever since her elegant first volume of poems, Etruscan Things, in 1983. Now Questions of Love presents a generous selection from a quarter century of her work, along with the blazing new poems that make up a book by themselves. Fearless, clear-minded, and harrowing, Lesser's poems match their wrenched prosody to their wrenching subject: the way people blunder, torture and are tortured in the name of love. And yet these poems have room, too, for wit and for great tenderness. This is a full-hearted collection, as rich in light as in darkness."
-Rosanna Warren

"Having read her poems for years, I see now that together they make an arc—the line's effort to be a circle, where she can begin again: 'need for a new start,' she calls it. And I see too the struggle in poem after poem, in poem within poem (as in Etruscan Things, her grandest fabric), to be loyal to 'what we have behind us,' even as she wants to get to what lies ahead. Throughout she keeps asking Questions of Love, all of which amount to What Can I Give? And the one answer Rika Lesser allows herself is: everything, except to give up. It is a splendid, legendary agon."
-Richard Howard

"Rika Lesser creates precisely calibrated whirlwinds, poems of profound beauty driven by the urgency of a century in crisis. John Donne spoke of 'the naked thinking heart' as the poetic subject, but in our age there's a perceived split between intellect and emotion. Lesser is here to heal that. Her logic is passionate, her emotional grounding impeccably self-exacting. In a brilliant way, these are poems that work. They examine their own premises and move dialectically, toward unmapped territory. from the certainties of suffering to the terrifying openness of healing from the firm stances of conviction to the problematic ground of truth. Questions of Love is a major, long-awaited collection."
-D. Nurkse

"The long labor of Rika Lesser's days and years has produced a body of poetry that combines the luxury, the disassocation, the sweetness, and the sharp drama of dreams with the logic and relentless intelligence of great philosophy. It's a privilege to read her poems, and to understand again by reading them how widely human consciousness can spread its wings."
-Vijay Seshadri


Persons of Prognostication


VII

It is so quiet here:
Before the onset:
the heart's dark door
desolate
open.
The locks – fast.

What remains in the veins,
What insists in the heart
to start us once, startle us, leads
to this impasse only.

I do not need you – here
I need the door – ajar
And we – parting. Far –
Oceans – between.

(1973)


Questions of Love brings together the best of Rika Lesser's three earlier books and a stunning collection of her most recent poems. From her undergraduate years at Yale during the seventies to her more recent reflections on death and loss, Lesser mines the quotidian for moments of profound insight. Dickinson's influence on Lesser has been noted throughout her career, and her new poems are invested more than ever in Dickinson's syntactical ingenuity:

my sister has death on her plate
she eats heartily She eats well

The stark and disarming language of Lesser's newer poems is often devastating and calls to mind the emotional intensity of Jack Gilbert, as in "To Autumn," which begins " I wanted both my parents to die / together They did not oblige me" and ends "I want / my mother to die in her sleep / Where / would you have yours die? / And by what means?"

A noted translator, her poems often examine the intransigence of language, as in An den fernen Geliebten or Care, Revisited":

. . . You
and I allegedly speak the same language
Nevertheless, our Englishes seem a pair
of long stiff gloves, hardly fit to be tied

American Poet, 69
QUESTIONS OF LOVE, RECONSIDERED

XI. Unheimlich


You had me when
you wanted me
Then you didn't
any longer

Sorry you kept
saying
Sorry
first and last word
out of your mouth

I had used words:
reject betray
responsibility
You kept saying
sorry &nbspSorry
to disappoint
Kept speaking of
boarding school

Yes it must be
very different:
being stashed a-
way from home A
light shines on you
when a parent
comes to visit
Then you revert
to a world of
other children
and their games

When not in school
I was kept in
mostly, where I
might be seen or
vaguely heard by
parents barely
there, registered
as present I had
to create my
own world without
any other
children – my sisters
grew older – make
up my own games

And so I made
this path, this frame-
work, this house in
which to live a
life without some-
one else's god
Matter enough
Spirit aplenty

You set yourself
in my path, de-
manding: Love me
Child, I did Then

you walked away


© 2008 by Rika Lesser. All rights reserved.


Persons of Prognostication


I

No work bound me. No worth.
No tongue. Though tongue-tied, sang.
Breathed with love's lungs.
Flew, hung, like a bat. Heard.
As if nature were my nature
And at one.
Lost words.


IV

Sit down at the piano, Poet.
Be seated in your lassitude.
Give us a tune by Bach, a fugue,
no cadenza here, only the cadence,
clear, as composed.
Not here extemporized
Not to be improvised
Neither of time nor of sight
(nor in sight nor in time)
Not unforeseen. Give us a
sarabande, an allemande.
Give us the written key.
Something with three repeats.
Not as if of your mind,
less of your self.
Give us a tune by Bach,
a tune by Bach.


V

Harpsichord quill in the ear
Lyre in the heart
The fingers are willing
But the strings are taut.

How does one agonize?
How does one praise?
Where are the harmonies?
Where is the dissonance?
Where is our diffidence?
How does one weep?

In the next room
someone with violin
wails a lament.
Poor little gypsy
always at no request
follows from town to town.

One stays intractable
and masterless.



"Persons of Prognostication" © 2008 by Rika Lesser. All rights reserved.